Kavenswood
,
House-Barn,
Glen Ellen, California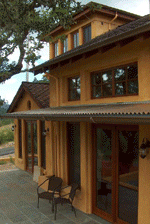 Views of Sonoma Mountain take your breath away on this 20 acre remarkable site. The main building site begged for a strong yet sensitively placed building. The native blue oak forest rolls out of the deep canyon to the south and engulfs the house with filtered and colored light. The entry courtyard is more of an outdoor room with trickle and rill fountains, large overfilled planters and natural bluestone pavers embellish the bluish tint of the oak trees. The limestone plaster was chosen to soften the look of the exterior and give subtle attention to the mahogany casement windows. Once inside a rustic cherry floor greets you as the soft palette welcomes you to explore the great room with Rumford fireplace and bluestone slab hearth. Large archways invite you into the kitchen and dining room which showcases massive site built fir trusses and cedar ceilings. Everything in this house speaks to craftsmanship and a love for architecture. Marble and babinga countertops compliment black limestone and handmade tiles. The cabinetry stretches the eye to ten feet balancing the 16 foot peak. Four remote control skylights energize the island and bar making the room a favorite.
Marble mosaics and mahogany cabinets provide this house a sense of timeless history and connect with the owners sense of permanence and place. Only three paint colors are used throughout this 4,400 square foot house. Deep tones are used for accents and intimacy in smaller rooms such as the library and wine room.
An outside dining terrace shaded by one of the majestic oaks enjoys the strong presence of the bronze railings which are filled with concrete for extra stability. The observation tower stands tall and weighs the roof lines to the west yet balances the massing of the main roof, a a fifty year offset shingle. Raw corrugated steel panels cover the breezeway and entry doors as well as providing a rustic feel to the formalness of plaster.
Every effort was made to make this house as green as possible. Powered by a wide array of solar panels and heated by hydronic floors. This house was the first house constructed in Sonoma County with a stucco alternative known as natural hydraulic limestone. This material is more friendly to the environment, due to it's low emissions during manufacture and application.